Need to cool off on a hot summer's day?  Here is a smoothie that will surely refresh and energize you!
The watermelon in this smoothie is a perfect base, being comprised of nearly 92% water, you really do not need to add additional liquid.  And, did you know watermelon contains more lycopene than almost any other fruit or vegetable?  This smoothie, loaded with nutrients, will make you feel like you are holding the summertime sun in your glass.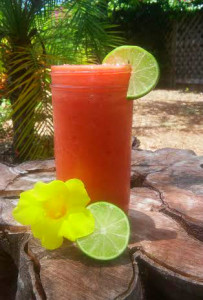 Makes 2 cups of smoothie.
1 cup of apple, chopped (I used 1 organic pink lady apple)
2 tablespoons of fresh lemon juice
1/2 cup frozen strawberries
2 cups watermelon, deseeded and chopped
Combine watermelon, strawberries and lemon juice and blend for 30 seconds.  Add apple and blend for another minute or until all fruit is completely blended to a juice-like consistency.
Recipe by Melissa DelSignore