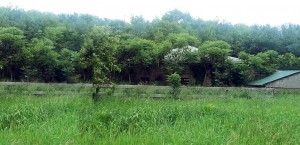 This overgrown, dilapidated, seemingly abandoned barn was home to the five horses and nine sheep in an Ashtabula rescue. From that rescue, one horse is now blind and one deceased. Held captive in the dank barn for over two years without the light of day upon them, they watched through the barred windows as passers-by lived their lives. Residents and law enforcement overlooked this property as empty and abandoned, until one day, one whinny at the right time alerted a community member to the existence of life within its walls.
How can you help? Educate on the signs of abuse and the steps to take in reporting cruelty is key. It starts with you.
Please Read Carefully the Following Report Cruelty Information
Step 1: Happy Trails is not legally authorized in Ohio to investigate any complaints on our own, rather we must be invited in by law enforcement, which can include a humane officer or animal control agency, to assist them with their investigation. Therefore, any instance of animal neglect or cruelty must first be reported to the local humane agency.  Have ready the following information for your report of cruelty:
Complete address of the complaint
Name of person/persons suspected to have involvement
Description of animal/animals affected; do they have food, water, shelter? Can you see skeletal profile, are hooves neglected? Are living conditions dangerous?
Use our Signs of Animal Abuse as a guideline.
Record the name of the person with whom you registered a complaint as well as the day and time your call was placed.
Step 2: Documentation is important! While waiting for an investigation, make sure begin to take photos, videos, or create a log to help document when things happen. Please do this only while obeying trespass laws and considering your personal safety.
Step 3: Please keep in mind our humane officers work diligently to investigate all instances of reported abuse. Just because they have not placed a return call does not mean they have not investigated. Conducting an investigation takes time and procedures must be followed. Hundreds of reports of suspected abuse are placed in each county and the job of a humane officer is hindered by the obligation to return calls and emails. With this in mind, if you have not heard back from or seen evidence of the investigating officer, you may consider placing a follow-up call for the status of the complaint.
Step 4: If the situation is dire and the animal is near-death, please call 911. Local law enforcement can help. In some instances Happy Trails can assist you in reporting an occurrence to the county's humane officer and offer our assistance to the humane agency in housing the animal/animals should they need to be removed. Remember Happy Trails must be invited in by law enforcement, we cannot act alone.
Special Notes
• Happy Trails will assist with removing an abused, neglected or abandoned animal/animals, and provide transportation, medical and veterinary attention, rehabilitation, assistance to the prosecution with information and serve as a witness for trial, as well as providing an adoption program after the animal/animals are signed over to Happy Trails.
• An environment that you and I may consider abusive or neglectful, may not necessarily be illegal. to remove an animal from a situation, humane officers act within the confines of the law Ohio Revised Code – Agricultural Animals.