Horses & Ponies
Horses in the Happy Trails equine program come with varying amounts of training. Some are finished, some are green-broke, and  most fall somewhere in between. We utilize the experience of our staff and the guidance of our veterinarian team to determine each horse's riding ability and level of training.
Horses deemed 'pasture pal' are not able to be ridden but can provide years of loving companionship for another horse as well as your family.
Horses 'in recovery' are those that have been removed from a situation of abuse/neglect and are not yet available for adoption.  Unable to adopt?  Sponsorship opportunities are available for the horses at the sanctuary to offset their care while they wait for a forever home.
Adopt
Sponsor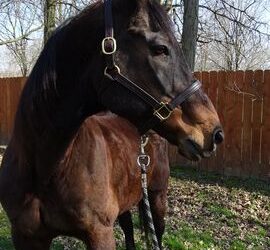 Status: Available for Adoption Year: 1993 Breed: Apendix QH Gender: Gelding Color:  Bay Height: 15.1H Adopt:  $150 Clem is a sweet old man who came with his best friend that was unexpectedly lost due to old age at their previous adopters. He...