Pumpkin season is here!  Here is a great recipe for pumpkin cookies that takes minutes to throw together, is oil free and leaves room for lots of autumn additions!  These cookies are amazing as is, but have fun and get creative and add in other fruits like dried banana, cranberries, raisins or coconut.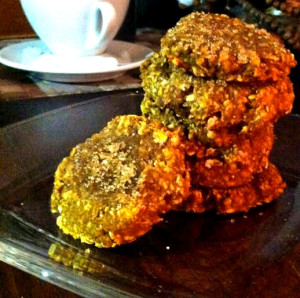 1 29 ounce can pumpkin puree
2 tablespoons cinnamon
½ teaspoon nutmeg
¼ teaspoon ginger
¼ teaspoon cloves
5 cups old fashioned oats
1 cup sugar (I used Sugar In The Raw)
Preheat oven to 350 degrees.  Combine pumpkin and oatmeal (and any other additions) into a large mixing bowl and stir.  Mix in spices and sugar.  Line a tray with parchment paper and scoop heaping tablespoons of batter onto tray.  Press each cookie down in center to be sure they cook evenly.  Sprinkle extra sugar on top of cookies and bake for 15 minutes.  Remove cookies from the oven and allow to cool before devouring.