Need a quick, caffeine-free pick me up?  With only three ingredients and a blender needed, something so delicious couldn't be more simple.    In addition to a natural energy boost, this drink is perfect for detoxifying, improving circulation and the immune system.  Makes 1/2 cup of juice.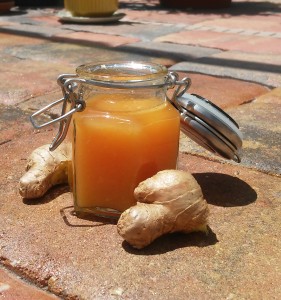 1 grapefruit, peeled and seeded (approximately 1 1/2 cups)
2 tablespoons fresh ginger, peeled (or less, to your taste)
1 teaspoon fresh turmeric, peeled
Combine all ingredients into a blender and blend on high for 1 minute 30 seconds.  If you don't have fresh turmeric, use ground turmeric, or you may leave out completely.