| | |
| --- | --- |
| Status: | Adopted! |
| Year Born: |  2004 |
| Breed: |  Appaloosa |
| Gender: |  Mare |
| Color: |  Brown Blanket Appy |
| Height: |  15 |
| Adoption Fee: | $250 |
| Sponsor Fee: | $50/month |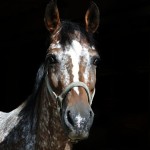 About Virtue
January 23, 2016:  Virtue chose her person when a family member came to visit at Virtue's foster home.   She quickly made it obvious that there was no other for her and it was decided!  The adoption is final and Virtue caught a ride to her new home in Texas. We wish her the very best.  Patience is Virtue's and after quite a lot of it, she now has the perfect home.
Virtue is a beautiful, vibrant, sassy Appy mare. Her color and glowing looks are a reflection of her personality. Virtue stood in a stall for 2 years awaiting her rescue. She has broken free but chains of neglect still bind her heart. She needs a person worthy of her trust and she will reward you to no end. Virtue will require patience, consistnency and needs shoeing due to the neglect of her feet. She may be ridable but currently is pasture sound and awaiting you.
November 5, 2014: Virtue is doing wonderfully! She has calmed down immensely from the horse that came to us this summer. She is learning how to stop and think about things before reacting. Before she would want to kick out if anything touched her farther back than her shoulder and would not let us get a halter on without a fight. Now she is learning to pick up her feet for the farrier and puts on her halter like a champ! She is actually turning into a fairly quiet horse. She will need an experienced owner though since she is untrained. She is willing to learn and is proving to have a good head on her shoulders!
July 1, 2014:  Virtue is coming along nicely.  The farrier has given a great prognosis that despite the worst feet of the bunch, she will recover completely.  This mare has a willing spirit, a bright personality and great potential.
Five horses, nine sheep.  From a dilapidated barn in Ashtabula County, Happy Trails assisted the local humane officer in rescuing these animals from one of the most horrific sites in recent history.  All of the horses were locked in stalls, knee deep in manure with no hope of being able to reach the lush grass just beyond their barred windows to the outside.
Virtue received her name after learning patience as she stood outside her old barn awaiting rescue.  While others were loaded, she paced and pawed despite her horrific hooves.  After waiting over an hour, she had to be kept still overnight until light of day gave the Happy Trails rescue crew the opportunity to pull out the rest of the horses.
---