| | |
| --- | --- |
| Status: | Adopted! |
| Age: | 2009 |
| Breed: | Paint |
| Gender: | Gelding |
| Color: | Palomino |
| | |
| Adoption Fee: | $150 |
| Sponsor Fee: | $50/month |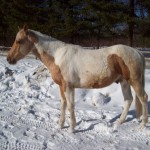 About Remington
Remington is a three-year-old Paint gelding. Remington was removed from a neglect situation in Mahoning County Ohio on January 12, 2010. He is an extremely handsome Palomino Paint and is coming along nicely on a lead line.
He is now healthy and sound and is learning about ground manners. He is probably the sweetest boy ever, and simply loves all people and all other horses.  He still thinks of himself as a baby, and often acts like one, playing around the other horses and trying to inspire them to play with him.
Rem cannot be ridden due issues with his legs and ankles – arthritis and ringbone. He occasionally appears to be "off" after a day of hard play, so an occasoinal dose of Bute helps him along. Remington deserves a wonderful family he can call his own!
---