| | |
| --- | --- |
| Status: |  Adopted! |
| Year Born: |  Unknown |
| Breed: |  Mini-Horse |
| Gender: |  Gelding |
| Color: |  Chestnut |
| Height: |  9h |
| Adoption Fee: |  $100 |
| Sponsor Fee: |  $50 |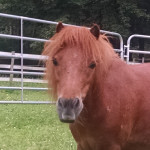 About Pumpkin
September 16, 2015:  Great news to report!  Lilly and Pumpkin have been adopted by their long-time foster home.  It is always a pleasure to receive news of a 'failed foster'….failed because it turned into a forever home! 🙂
July 20, 2015:  Pumpkin is shy and sweet and ready to find a forever home.  He was rescued alongside Buster and Lilly and they are fast friends.  They are all together in a foster home until each finds his place to be in the world.  Could you find this little guy his person?
April 26, 2015: It's been a long, hard year. What a way to celebrate the 1-year anniversary of the Columbiana County rescue than with plea bargain closing the case and finally freeing up these wonderful animals for adoption! Read the full story-update of the Columbiana County abuse case.
Pumpkin and Buster are in foster care awaiting their forever home.  We will bring more details to you as they become available.
---