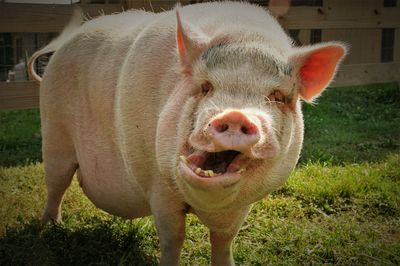 Status: At Sanctuary
Year: 2014
Breed: Potbelly
Gender: Male
Color:  Pink w/black
Adopt:  $100
Mr. Bubbs found himself without a person after his owner surrendered him to Humane Animal Rescue of Pittsburgh, PA.  He traveled all the way to our sanctuary for a new lease on life.  He has settled in quite nicely and enjoys his days out in our paddock grazing and rooting.  He needs to loose a little weight but is ready to find a home where he can know he will be safe and never turned away.