| | |
| --- | --- |
| Status: | Adopted! |
| Year Born: | 1986 |
| Breed: | Tennessee Walking Horse |
| Gender: | Mare |
| Color: | Chestnut |
| Height: |  14.2h |
| Adoption Fee: | $150 |
| Sponsor Fee: | $50/month |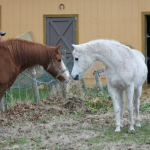 About Maka
October 10, 2015:  Maka has made the transition from foster care to a brand new adoptive home.  We wish her the best and a happily ever after!
July 21, 2015:  Maka is settled in as a pasture mate at her wonderful foster home.  What a special service this home provided, to allow Maka happiness in her senior years.
December 18, 2014:  Maka has found a wonderful foster home! She is now with a gorgeous Arabian gelding named Whisper. Her new foster family is very excited to welcome her! Whisper had not had another horse friend in quite some time and was very excited to meet Maka. We know they will become best friends!
Maka came from a hoarding case in Summit County. She was rescued with her friend, Graciano, a potbelly pig that was overweight, and a large group of dogs. Maka's feet were in very poor condition. They were rotting underneath. She got some much-needed farrier care and is doing much better! This old girl will be best suited as a pasture pal. She is a sweet mare who deserves a nice relaxing retirement.
---