| | |
| --- | --- |
| Status: | Adopted! |
| Year Born: | 1990 |
| Breed: | Draft Cross |
| Gender: | Mare |
| Color: |  Grey |
| Height: |  15 |
| Adoption Fee: |  $150 |
| Sponsor Fee: | $50 |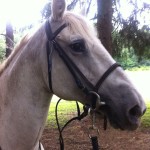 About Lily
June 30, 2016:  Lily is one of the lucky ones.  She has been in foster for the years her case dragged on.  Recently her foster parents became adoptive parents and are proud to make this announcement.  Congrats to Rachel and Lily!
July 21, 2015: Lily is suitable for Advanced Beginner to Intermediate rider and will do best on trail as a walk-behind.  She is beautiful, sturdy and ready to have that special partner to hit the trail!
April 26, 2015: It's been a long, hard year. What a way to celebrate the 1-year anniversary of the Columbiana County rescue than with plea bargain closing the case and finally freeing up these wonderful animals for adoption! Read the full story-update of the Columbiana County abuse case.
Lily is a senior draft cross – a compact, sturdy gal with a lot left to give.  She seems happiest eating and giving love, will walk/trot/canter on line and may be best suited for lazy  trail rides.  She has some arthritis and has chronic eye infections but those are held at bay by sinus rinses and meds.  All-in-all she is a content, easy to handle senior waiting to find the home she deserves for her next chapter.  In the meantime, she is in a wonderful foster home brushing up on manners and handling and is doing great!
---