| | |
| --- | --- |
| Status: | Adopted |
| Year Born: | 2007 |
| Breed: | Saddlebred |
| Gender: | Mare |
| Color: | Bay |
| Height: | 15h |
| Adoption Fee: | $500 |
| Sponsor Fee: | $50/month |

Ready to Adopt?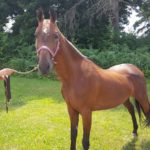 Adopted!
March 2017:  She has come so far with her education and is more trusting and interested in people thanks to the dedication of her foster.  We had a reputable Saddlebred Rescue group who agreed to help us out and take her into their program, but Layla holds a special place in the foster's heart, and apparently in the heart of her student as well, so she gets to stay right where she is. What a great match that we are excited to watch for in the show ring!
March 24, 2017:  Layla is a special mare who will need someone familiar with her breed.  She is doing well in her foster home but will need to find a person to bond with to reach her full potential.
Mahoning County responders arrived at a working fire of a residence. Once the fire was under control, not only had it gutted the family home, it shed light on seven horses kept in a small pole building with no food, water or hay. Their conditions were cold, wet and unsanitary and the horses were definitely in need of rescue from their situation.
Rideable: Layla is currently in foster care where she has been receiving great care and attention.  A report from her foster says she lunges and knows her voice commands, clips and bathes well.  She has been long lined (ground driven) too. They have had a rider on her to do a little walk and trot but she's still got some strength to gain before she is evaluated.
---