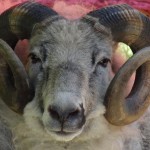 Adopted!
March 25, 2017:  Tunnel after tunnel through the mountains of PA. I was thinking about where Kyle came from and how far he will travel to his new home and how it is all possible because of people who cared enough about a sheep in a dark stall who was abused and afraid and wondering alone if that was his life forever. I am so excited! Kyle has been safely transported to his new home in Hershey, PA. After two long years we have found the perfect home and his journey is complete. Thanks to our Placement Coordinator for her tenacity and to all who have supported Kyle.
June 30, 2016:  Kyle recently was rushed to OSU for surgery to repair a blockage of his urethra.  He is back and recovering well.  He would love to have a home where he can be on his own to explore and would eat up an occasional head rub.  He can have tendency to head butt and needs to be handled softly but we swear to you he is worth the the extra.
December 15, 2015:  Kyle and Ronaldo have gone their separate ways and Kyle now resides alone.  He has shown some signs of aggression and we are thinking he is spooking when approached where his horns do not allow him to see you.  We need to find a special home for Kyle.  He is very lovable and friendly but can be sometimes unpredictable.
July 5 2014: Kyle has received a haircut and his hoovers are trimmed up nicely. Underneath all that wool was a wonderful ram personality. More playful and trusting, Kyle is on his way to forgetting his situation of neglect and looking more toward a pleasing future. Ronaldo has been sheared and has gained his confidence. These two spend time head butting and exploring their paddock in wonderment at the fresh grass and breeze that moves across their skin. Hard to think of them cooped up in such conditions for so long. Kyle and Ronaldo are inseparable and Happy Trails would like to see these guys adopted together. Please help us to find them a wonderful home.
Five horses, nine sheep. From a dilapidated barn in Ashtabula County, Happy Trails assisted the local humane officer in rescuing these animals from one of the most horrific sites in recent history. All of the horses were locked in stalls, knee deep in manure with no hope of being able to reach the lush grass just beyond their barred windows to the outside.
Kyle is one of two recognizable rams that were rescued on the two day operation in Ashtabula. He was the easier of the two to 'guide' to the trailer considering his horns! He was three times his size with years of unsheared wool and his hooves were an inexcusable length. He spent the first few nights cowering with his buddy in a small paddock with a private tent and has become more trusting as the volunteers work on his recovery. Ronaldo is the second. His wool was peeling back from his body; an indication of severe illness and fever at some point during his two year imprisonment. He put up some resistance but made his way to the trailer and rode with Kyle and the seven other sheep to the sanctuary for his new start.
---