An animal friendly diet isn't expensive, time consuming or bland.  This recipe stands here to prove it.  And if you don't you like eating your greens, this is a great way to get them.
1 jar of medium salsa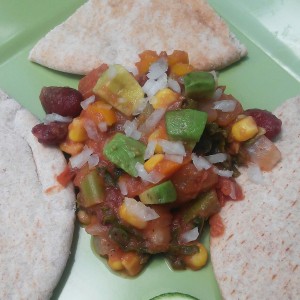 1 can fat free refried beans
1 can kidney beans, rinsed and drained
4 cups kale, finely chopped
1 cup tomato, roughly chopped
1 cup sweet onion, diced
1 cup yellow pepper, diced
1 cup frozen corn
1 lime, zested and juiced
2 avocados, diced
Salt, pepper and cumin, to taste
2 teaspoons cayenne pepper
Combine beans and salsa in a large frying pan over medium heat while you prepare the rest of the vegetables.  Stir in corn, tomatoes, peppers, kale and onion, lower heat.  Add in seasoning and simmer for about ten minutes.
Top  with diced avocados.  This is great as a dip with chips or toasted pita