Give a Warm Welcome to our Latest Rescues
As we bid a fond farewell to the recent outflow of adopted animals, we are brought back to the task at hand by our newly acquired pig friends.
Let us introduce Hershey, a completely adorable 3-year-old neutered pot belly pig (house pig). He is potty trained, LOVES everyone at all times, and is the best little pig in the world. Hershey's owners were in trouble with the law and amidst all their woes they were not able to keep nor care for an assortment of animals on their property. This guy now lives in our Animal Care Giver's home! He is full of fun antics and recently stole her other house pig's blankie because a carrot was stuck in it. Hershey is going to need some care. His skin doesn't appear to be in the greatest condition and he has a hitch in his git-a-long. His back legs seems to…well, his gait is off for some reason – may be legs, may be spinal. Before he can be adopted out, Happy Trails will have the vet examine him, get him his vaccinations, deworm him and get his hooves and tusks trimmed. However, we will be THRILLED to accept adoption applications for him and to approve a loving, caring home for him in the meantime. We hope to have a family waiting for him! Recovery should take 3-4 weeks and his adoption fee will be $100. Hershey's care will cost approximately $300 through Dr. Riggs at Barberton Veterinary Clinic.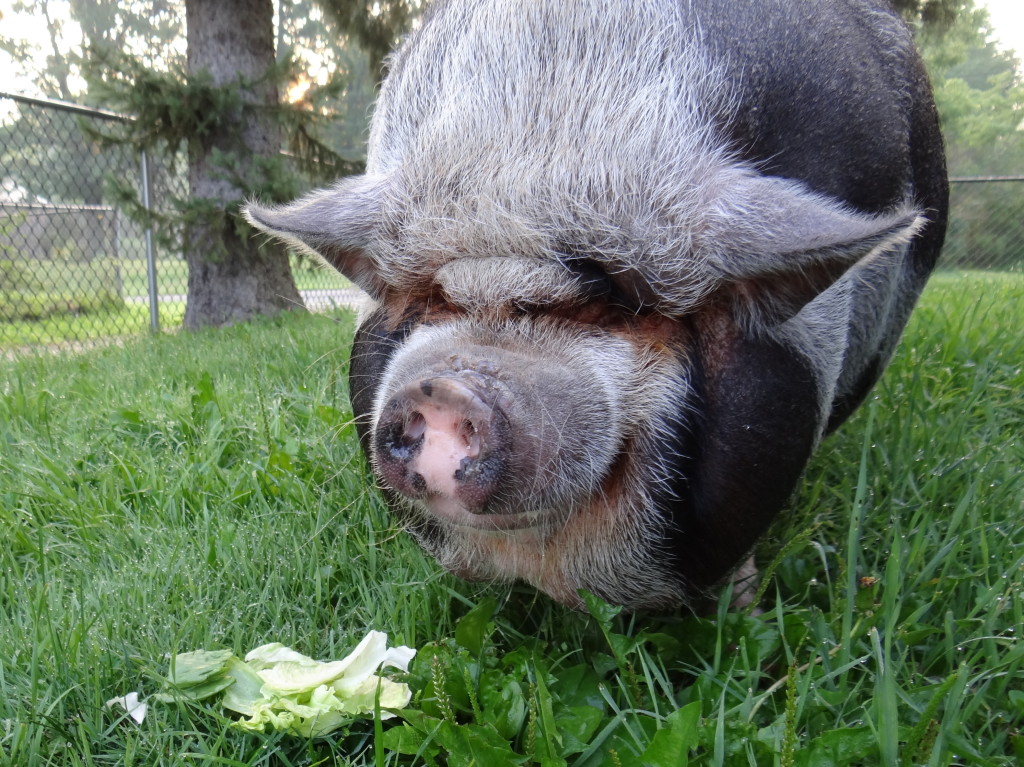 Our other new friend, now namedAngelina, was abandoned in a hotel room by her owner on several occasions. Sordid rumors of drugs and criminal activity were her surroundings until Happy Trails stepped in with law enforcement in Trumbull County, Ohio. Happy Trails agreed to give her a reprieve. She definitely needs some attention along with a new name. Her hooves are horrific. They not only are untrimmed, they would hardly stand up to the nearly 300 pounds she must carry around. Her hooves grew out criss-crossed, and then back toward her face. Through no fault of her own, Angelina has some fear-biting issues because she is too big to see her surroundings. This piggy is however, potty trained, is a house pig and has great potential with the right owner.
The Trumbull County Animal Welfare League had their vet trim back her hooves and vaccinate and deworm her. Angelina is now even micro-chipped! She has been put on a healthy diet of vegetables to replace the high-sugar junk food like gummy bears and twizzlers she is used to being fed. We will happily start taking applications for adoption for this poor gal as well. She definitely needs some time for recovery but deserves to have a safe place to land.
If you are interested in adopting one of our new residents or have the ability to help out by sponsoring their care, please contact us at 330-296-5914 for more information! Donations through our PayPal link are welcome and appreciated.