| | |
| --- | --- |
| Status: | Adopted! |
| Year Born: | 2000 |
| Breed: | National Show Horse |
| Gender: | Mare |
| Color: | Chestnut/White |
| Height: | 16.0hh |
| Adoption Fee: | $500 |
| Sponsor Fee: | $50/month |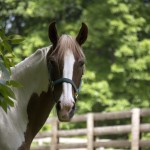 About Esperanza
October 10, 2015:  Esperanza has been adopted.  Taken on to help Happy Trails with training, she in return helped her new adoptive mom to trust riding again.  After a back injury from a fall, she was reluctant to mount again.  In working with Esperanza on the ground, it was obvious the next step took her on trail.  She did it and together they rode off into the sunset!  Congratulations!
September 3, 2015:  We have received a great update from Esperanza's foster mom. "Esperanza is doing very well with her saddle work!! I have her in work (ground and saddle) three days a week. She is a lot of fun to work with. We hand walked her on our trails tonight and a bunch of deer jumped out pretty close to her. She was completely un-phased… she watched them go by and that was it."  Esperanza has blossomed into an amazing horse.
July 21, 2015:  This past Friday, Espi had a riding evaluation and while she did very well, she will need continued training at a slow and patient pace.
July 11, 2015:  A special treat…this update is straight from Esperanza's foster home and trainer…The once nervous, anxious and un-trusting horse is in the past. Esperanza has blossomed over the last ten months in her foster home, she has gained a little more weight and has tons of muscle on her. She seeks attention, is incredibly gentle with little kids and comes happily when you call her in from the field. She most certainly has figured out how to be a horse again. She has gotten along with every horse that we have introduced her to. This is in part because she has no desire to be the head of the herd, shes happy just being with the other horses. She has been in training and handled daily since her arrival at her foster home. She is working on her level two Parelli Natural Horsemanship and has recently been restarted under saddle and ground ties better than any horse in the barn and loves to be groomed. We felt it was best to take her back to the very basics. She is what would be termed in the natural horsemanship world as a right
brained extrovert. Knowing the horsenality of a horse helps immensely in setting them up for success. It's taking the time to understand how they process and learn and this girl is incredibly smart, a fast learner and very eager to please.  We have introduced her to scary things like tarps and big blue balls. None of which phase her. She is very nosy and tries to be helpful. A quick story: We were putting up additional fence in our field and had equipment everywhere, making noise, banging and Esperanza was right there. She was taking things out of the four wheeler, nudging us while we worked trying very hard to be part of  things. Our goal with Esperanza was to try and help her forget all the bad that she has experienced in her life and instead show her that humans can in fact be a safe part of her world. I believe we are there!  Her favorite treats are watermelon and bananas.
July 28, 2014: Esperanza has come a very long way since her arrival at Happy Trails. She is now in good weight and is gaining muscle! She is far less anxious than she was when she came. She has calmed down and is figuring out how to be a horse. She will still require a patient, experienced adoptive home as she can still be a handful. She is a very gorgeous girl, she will make a great addition to the right home!
April 1, 2014: Esperanza (hope) is a beautiful 14yo Paint mare.  She was rescued along with her longtime buddies, Sueno and Milagro from yet another severe neglect case in Mahoning County, Berlin Center.  To read their bio, check out our Mahoning County/Berlin Center Rescue We have a grand dream that her and her two friends, who supported each other through years of neglect, could be adopted out together.  We do understand our dream is just that and if the right family comes along, she will be adopted out with best wishes.  Esperanza came to us very nervous, anxious and un-trusting. She is in need of a weight gain of 300 pounds!  It has been a sweet pleasure for our animal caregivers to work with her gently each day as she blossoms into a bright-eyed, less anxious friend at the sanctuary.  Although it will take time, she will learn to trust and will be able to be ridden but most importantly, she may actually trust again.  Please contact us if you think Esperanza might find hope in your family.
---