| | |
| --- | --- |
| Status: | Adopted! |
| Year Born:  | 1994 |
| Breed: | Quarter Horse |
| Gender: | Mare |
| Color: | Bay |
| Height: | 14.1hh |
| Adoption Fee: | $350 |
| Sponsor Fee: | $50/month |
About Crecencia
---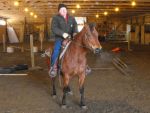 March 9, 2015:  Crecencia has found a loving home. All of us at Happy Trails cannot tell you how grateful we are to say this.  Ashley K worked tirelessly and would not give up to find a special place for Crecencia to call her own.  She is finally there and reports are she has never been happier.  Good luck Crecencia!
August 28, 2014: Crecencia is loving having a job! She has been being ridden by kids and is doing great with it! She would be perfect for a child in 4-H looking for a horse to show. She really is a sweet heart!
July 28, 2014: Crecencia has a foster home! She is loving her new place and is being ridden again! She really thrives with a job and people to love her. We can't figure out why this amazing girl has not been adopted yet! Will you be Crecencia's forever home?
November 15, 2013:  Crecencia is waiting on her forever home.  She is a sassy, wonderful mare ready to be someone's equine companion.  If you are looking for a trail buddy or a fun show team mate, give us a call to visit her.  She may be the perfect match for you.
June 27, 2012:  Crecencia is a twenty-year-old Quarter Horse mare. She came to Happy Trails when she was removed from a severe neglect situation in Trumbull County in August, 2009. Crecencia was locked in a stall with no turnout or light of day.  Her poor condition showed through her long untended hooves and her ribs showing through. She has since been rehabilitated and has regained her weight.  Her feet have recovered fully.  Crecencia was evaluated by our trainer, Ken Aberegg, and is ridable although best suited for an intermediate rider. She is a pleasure to work with and still has a lot of energy for her age!