| | |
| --- | --- |
| Status: | Adopted! |
| Year Born: |  1998 |
| Breed: |  Appaloosa |
| Gender: |  Mare |
| Color: |  Sorrel Varnish Appy |
| Height: |  14.3 |
| Adoption Fee: | $500 |
| Sponsor Fee: | $50/month |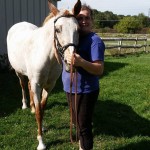 About Chrissie
September 9, 2016:  After years of working, and fretting and, worrying…Chrissie has found a home and a new lease on life with a young, up-and-coming horse enthusiast.  Chrissie will be the focus of attention and is at a wonderful little facility just perfect for the support she needs.  Congrats!!
November 26, 2014: Chrissie is doing amazing in her foster home! She is now learning how to pick her feet up quietly and has had a saddle pad on. She has come such a long way, but still has a long way to go. Her foster parents are doing amazing work with her!
July 5, 2014:  Gaining weight and confidence at the same time, Chrissie is a sight to behold.  She is 16 years young and has a lot she has been waiting to give some lucky owner.  She is sweet and quiet and with her newly trimmed feet, she can romp and play with her stablemates whom for two years, she could only gaze upon through the bars of her stalled prison. She is thankful and she is ready to live a full and happy life.
Five horses, nine sheep. From a dilapidated barn in Ashtabula County, Happy Trails assisted the local humane officer in rescuing these animals from one of the most horrific sites in recent history. All of the horses were locked in stalls, knee deep in manure with no hope of being able to reach the lush grass just beyond their barred windows to the outside.
Chrissie was the very first to be walked away from the horrific conditions of the dark, dismal barn in Ashtabula County.  She led the way calmly to the trailer and stood as stoic as she could despite the commotion outside the trailer while attempting to load first Virtue and then Bowie before she had a trailer mate for the ride to Happy Trails.
---