Bananas are loaded with fiber, B vitamins and potassium.  Being inexpensive and filling, they are a great base for smoothies.  This smoothie will surely leave you feeling satisfied and free from sugar cravings.  It's great as an on-the-go breakfast or a post workout snack.  This recipe makes approximately 4 cups of smoothie, but if that is too many bananas, cut the recipe in half.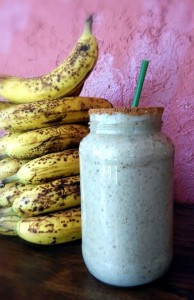 1 ½ cups ripe, fresh banana
1 ½ cups frozen, sliced banana (slice banana before freezing)
1 ½ cups organic, unsweetened soymilk (or other dairy free milk)
1 teaspoon cinnamon
2 tablespoons ground flax and chia seed blend
Dash sea salt
Dash nutmeg
Cinnamon and sea salt, for garnish (optional)
Peel and slice bananas into 1½ inch segments .  In a blender, combine soymilk and frozen bananas and blend for about 20 seconds.  Add fresh bananas and remaining ingredients and blend for about one minute or until all bananas are blended well.
If desired, combine cinnamon and sea salt into a small bowl and dip the rim of your glass in water.  Press the rim of the glass into garnish mixture prior to filling with your smoothie.