| | |
| --- | --- |
| Status: | Adopted! |
| Year Born: |  2013 |
| Breed: |  Morgan |
| Gender: |  Mare |
| Color: |  Dark Bay |
| Height: |  14h |
| Adoption Fee: |  $250 |
| Sponsor Fee: | $50 |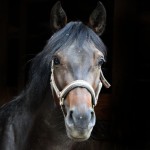 About Belle
July 21, 2015:  Belle was taken to OSU on the 10th of this month.  Surgery for Belle would give her a new lease on life.  Fundraising efforts are currently underway to make this happen!  Belle needs an experienced handler and with surgery can be put into training to make a great riding companion.  No jumping.
April 26, 2015: It's been a long, hard year. What a way to celebrate the 1-year anniversary of the Columbiana County rescue than with plea bargain closing the case and finally freeing up these wonderful animals for adoption! Read the full story-update of the Columbiana County abuse case.
Belle is a wonder to behold.  Her beautiful face and shiny coat show her inner beauty cannot be contained.  Belle has a hernia that prevents her from being turned out with aggressive companions.  This hernia may be repairable with an elective surgery at OSU.  We can work with a potential home to make this happen.  First we must find the right person to take Belle as their own.  With this surgery, Belle at age 3 will live a long, happy life as a riding companion for some lucky person.
---