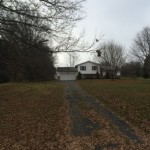 What do you get when you combine a Sheriff's auction, a 5-acre property with a very nice home and a barn, and pastures that connect to the back of Happy Trails current property?   Happy Trails new educational facility and an extended sanctuary!  Read the full details in our Land Acquisition Campaign.
Faith is taking the first step even when you don't see the whole staircase. ~Martin Luther King Jr.
Happy Trails has indeed taken that first step.  We are hoping that you will now walk together with us up that staircase, networking, reaching out to others and asking for their support to help Happy Trails acquire this property which will open doors, provide more educational programs, and allow us to serve you and the rescued animals better than ever….