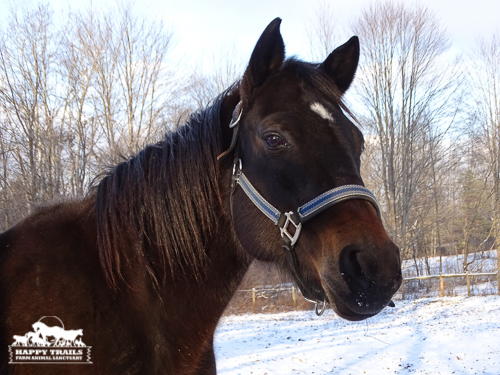 Status: In Foster Care
Year: 1996
Breed: Morgan Cross
Gender: Mare
Color:  Dark Bay
Height: 14.3
Adopt:  $150.00
Say hello to Star! Star came to us through our Amish Horse Retirement Program. She is a dark bay Morgan Cross with a white star on her forehead. She is very laid back and sweet. She was once a show horse for one of her previous owners.
However, Star is a little sad. She is very thin and will need evaluation of her hocks (you can see the calcium build up on her back right knee) and her teeth floated. Star also will be put on a re-feeding program to help her put on weight.
Will you cheer up Star by sponsoring her? Your contribution will go directly towards her recovery.
---