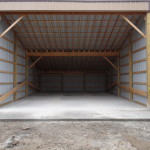 Despite rain and a little mishap with the contractors and a piggy (picture two guys shouting "NO NO!!!" and Covington, making her way through the wet cement, dragging her little feet and her big belly all through it, leaving a beautiful imprint!)…our new storage building is complete! At the last minute, the funding donation for the concrete was withdrawn. Barb M has paid half of the total cost of $2300. What an amazing gesture! Thanks, Barb!  John Rock of Rock Concrete headed the project and threw in the concrete pad in front of our Volunteer Center for free!  Thanks, John!
Please consider donating to this project to cover the remaining $1150. Donations are tax deductible and although this is not as "fun" it was definitely a necessity and an important improvement to the sanctuary. Now hay and sawdust can be stored easily for the winter.
Ways to donate:
1) Send check to Happy Trails at 5623 New Milford Rd Ravenna, OH 44266
2) Donate via PayPal
3) Call the office at 330.296.5914 or email me at lauriej@happytrailsfarm.org for a credit card payment  Thank you for your consideration!