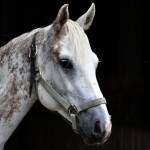 Status:  At Sanctuary
Year: 2006
Breed: Grade
Gender: Mare
Color: Sorrel Varnish
Height: 14.2
Adopt:  $250
Violet is a 14.2H, 8 year old grade mare with unique "bloody neck" markings. She is sound and up to date on vet and farrier care. Violet has good ground manners and stands to be groomed, saddled, and enjoys being loved on. She is broke to ride, but does best outside of the arena. She has some quirks in the arena we are working past. She can be sensitive to leg pressure and prefers a hackamore or bitless bridal. Violet does require an intermediate to experienced rider to work out some of her quirks. She has potential for English or Western riding. She gets along with most all horses and is great In her stall and pasture. Her training will continue until we find the perfect adopter for her!