Spreading Kindness And Compassion For All Animals
Happy Trails Farm Animal Sanctuary ♦ 5623 New Milford Rd Ravenna, OH 44266 ♦ 330-296-5914
Shop Our New Concrete Statues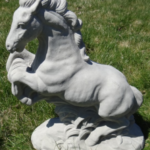 Tour season begins Sunday, May 1 and our gift shop will be open!
Gift Shop Hours:
Friday-Sunday, 11:00am – 5:00pm.
Behind our gift shop, be sure to browse our new selection of yard decor. We have dog and cat statues, horse statues, pet memorial stones, exotic animals, bird baths and farm animal statues. Competitively priced and high quality – our statues are not hollow – they're solid concrete!
Hang Your Company Banner on Our Fence!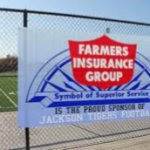 Happy Trails is now offering the opportunity to advertise your business to our guests by purchasing a banner to display on the front fencing that welcomes everyone to the sanctuary. For $1,500, you can show your support for the sanctuary while promoting products and services.
Fence Banner Sponsorships are $1,500 and are good for one year.
Sponsor a Rooster Apartment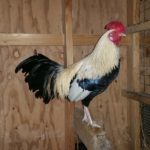 Provide peace, comfort and healing to rescued cockfighting roosters. Our rooster apartments are specially designed to keep former fighting roosters comfortable and happy while they await their forever home. Sponsor an apartment for one year for only $50 per month. A plaque with you (or your business) name will be placed on the apartment door to honor your sponsorship.
A larger rooster-romp pen inside the Rooster Rescue Barn, which allows one rooster at a me to enjoy a larger area to exercise and play, can be sponsored yearly for $975 ($65 per month).