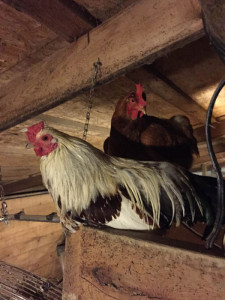 In honor of this holiday, I would like to share with you my favorite love story from the Sanctuary.
Taz is a little rooster that was removed from a neglect case a few years ago and Clarabelle is a hen that was removed from a cruelty case last year. They lived in separate barns. Every morning Taz would leave his barn and go to Clarabelle's yard to pick her up and they would spend the day together in the horse barn eating any dropped grain from the horses. They would then return to their separate barns each night. One day, they finally decided to move in together and slept in the horse barn, though on opposite ends of the hay loft. Each day they got closer until they were sleeping next to each other. Every night you can find them cuddled up!
Taz takes wonderful care of his lady, making sure to tell her whenever he finds something yummy and lets her eat it first. He has been seen bringing her food; once even handing it to her from his beak to hers. They are such a wonderful couple!  They are adorable and it has been a pleasure to see them "dating" and finally moving in together. Here's hoping that all of you have a happy Valentine's Day!