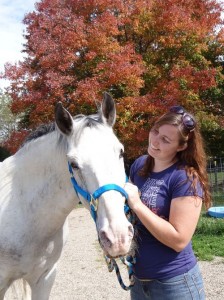 Need a boost for your week? How about the news that Renaissance, our 24-year-old blind, and recently gelded guy has been adopted!?!?
I can't imagine the spirit it took for this wonderful equine friend to have endured his years of neglect. He came to us with his daughters (one of them Delilah) from a rescue in Ashtabula. From the very first moment of his rescue when I pulled him out of the dark, manure entrenched stall, he has rolled at every opportunity, almost like pinching yourself to be sure its not a dream. He is eternally grateful to have the ability to roll in the fresh grass and sawdust once again.
One of our amazing caregivers has a special bond with Renny. He will hear her voice and nothing else matters. He looks forward to her every visit and she can't get enough of his nuzzles and affection. She has made the decision to adopt Renny and pair him with her current gelding. He is now turned out to roll and romp and graze in a 10 acre pasture with a friend as his guide….something he could only dream about for years.
Congratulations Ashley and Renaissance, we love you both and wish you a happy and loving relationship for the remainder of his days.
~Laurie J