| | |
| --- | --- |
| Status: | Adopted! |
| Year Born:  | 1996 |
| Breed: | Percheron |
| Gender: | Gelding |
| Color: | Grey |
| | |
| Adoption Fee: | $150 |
| Sponsor Fee: | $75 |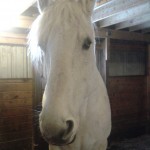 About Butch Whitefeather
May 20, 2015:  Great, GREAT news to report!  Butch's foster mom has decided she cannot part with Butch and has finalized the adoption.  Butch is now safely in his forever home.  And a wonderful home it is.  🙂  Congratulations, Eileen and Butch!
March 30, 2014: Butch is now completely blind in one eye and half blind in the other. He is a very sweet horse that deserves a great home where he can retire and spend the rest of his days. He is physically sound, so he may be ridable once he trusts his owner. He likely would not do well on trails due to his poor eyesight, but could possibly be ridden in a pasture or arena. Butch is such a beautiful horse that has been through a lot. Are you able to provide him a loving home where he can be spoiled for the rest of his life?
Butch Whitefeather is a handsome grey Percheron gelding. He came to Happy Trails through the Amish Horse Retirement Program because he was losing his eye sight in his one eye and not doing great with the team in the field. Happy Trails sent Butch Whitefeather to OSU for eye surgery in 2010 to stop the deterioration of his one eye. The surgery was successful, and he has adjusted quite well at his foster home. He is very loving and gentle and will be great to ride in an arena. In addition, he knows how to drive and ride under saddle. Butch is an exceptional horse and will require understanding, patience and love regarding his sight restrictions.
---