| | |
| --- | --- |
| Status: | Adopted! |
| Year Born: | 1996 |
| Breed: | Standardbred |
| Gender: | Gelding |
| Color: | Dark Bay |
| Height: |  16 |
| Adoption Fee: | $350 |
| Sponsor Fee: | $50/month |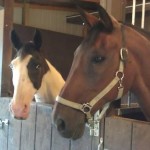 About Princeton
August 10, 2016: Princeton has been adopted by long time foster mom, Nanette! He is truly living a life of luxury. Congratulations to them both!
March 3, 2014: Princeton is back and available!  It's been a hard winter and his adoptive home made the hard decision to return him.  He is a wonderful horse and is ready to start off the riding season with a new owner and friend.  Let's get this guy to his forever home.  He deserves it!
August 11, 2013:  Princeton has been adopted to a wonderful home!  We have heard from his new mom already and he has settled in great.  Check him out with his new stablemate.
Princeton is another buggy horse who arrived through our Amish Retirement Program.   Did you know about two-thirds of the Amish live in Pennsylvania, Ohio, and Indiana (National Geographic, web) Princeton has given years of service proudly leading his buggy for his Amish family.  He simply could not go the distance any longer and came to us at Happy Trails.  Buggy horses are smart and well trained and this guy will make someone a great trail riding companion.  He deserves his retirement as he has earned every day of it.
---