| | |
| --- | --- |
| Status: | Adopted! |
| Year Born: | 2003 |
| Breed: | Thoroughbred/Appaloosa |
| Gender: | Mare |
| Color: | Palomino |
| Height: | 16.0 |
| Adoption Fee: | $500 |
| Sponsor Fee: | $50/month |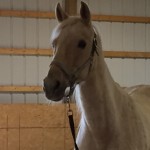 About Luna
August 7, 2015:  Luna's wonderful foster mom has given us the awesome news that she will be keeping Luna!!!  It's official today and we cannot be more happy for them.  Congrats!
April 3, 2015:  This is the month for new beginnings!  Luna has just landed at a wonderful foster home and if all goes well, her new forever home!  She was recently evaluated under saddle with no issues!  Keep your fingers crossed that Luna is a lady and shows what a wonderful horse she is.  We wish her the best!
January 11, 2015: This summer, Happy Trails assisted in the removal of 9 horses and 24 chickens from a hoarding case that also involved 30 dogs, a few cats and 80 parrots. The horses were starved and getting eaten up by flies, the chickens were locked in coops with the cats, the dogs were in small cages in the basement and the parrots were in a shed in cages that had not been cleaned in a long time. After months of fighting in court, these animals have finally been signed over and the horses and chickens are now available for adoption!
Luna is a gorgeous girl! She was thin when she arrived at Happy Trails, but otherwise has no health issues. She is sound and ridable. She would make a cute show horse! Luna still needs evaluated under saddle, but from the ground it appears that she would make a good mount for an intermediate rider. She can be pretty full of energy but she is not bad to handle. We would love for Luna to get adopted with her mom, Aurora, if possible. These two have not been separated in over 11 years.
---