| | |
| --- | --- |
| Status: | Adopted! |
| Year Born: | 1998 |
| Breed: | Thoroughbred |
| Gender: | Mare |
| Color: | Chestnut |
| Height: | 17h |
| Adoption Fee: | $350 |
| Sponsor Fee: | $50/month |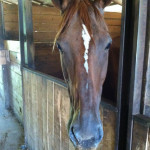 About Jasmine
March 15, 2015:  Happy to report Jasmine is on her way to a new life.  She has been adopted!
January 11, 2015: This summer, Happy Trails assisted in the removal of 9 horses and 24 chickens from a hoarding case that also involved 30 dogs, a few cats and 80 parrots. The horses were starved and getting eaten up by flies, the chickens were locked in coops with the cats, the dogs were in small cages in the basement and the parrots were in a shed in cages that had not been cleaned in a long time. After months of fighting in court, these animals have finally been signed over and the horses and chickens are now available for adoption!
Jasmine is a favorite around the sanctuary! She was very thin and is still dealing with some cracks in her hooves, but is otherwise healthy. She has been gaining weight well, but still has a little ways to go. Jasmine is very sweet and quiet. She is calm, responsive and never "mareish". She moves beautifully. She has not yet been evaluated under saddle. She needs a little more weight on first, but if she is anything like she is on the ground when she is under saddle, she will be a dream! She is very tall and has a solid build. She is not tattooed, so she was never raced. Jasmine is a great horse and will make someone a wonderful mount!
---