| | |
| --- | --- |
| Status: | Adopted! |
| Year Born: | 1993 |
| Breed: | National Show Horse |
| Gender: | Gelding |
| Color: | Bay |
| | |
| Adoption Fee: | $250 |
| Sponsor Fee: | $50/month |
About Graciano
---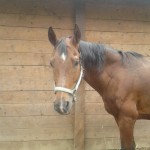 October 30, 2014:  Graciano went to his new home yesterday! This guys gets a chance at a new beginning with an amazing family! He will be spoiled and loved with his new mom. They will become great partners, we're sure! These two have lots to teach each other.
He will get to be best friends with Fluery, a sweet old pony that was adopted almost 2 years ago from Happy Trails and her daughter, Tabitha, that was born on the property. This pair is doing incredibly well and just love their family. We're sure they will make Graciano feel welcome. Graciano and Tabitha even look alike! They are so adorable together! Best of luck to the new family!
August 31, 2014:  Graciano was ridden today! He did amazing and is fully trained! He is very willing, quiet, and responsive under saddle. We are pretty sure he has been shown before. He would make a good 4-H or local show mount and is beginner safe and would be suitable for a younger rider. He would make a great addition to any barn!
Graciano came from Summit County with Maka, an overweight potbelly pig and a group of dogs. Both horses had very bad hooves. Graciano's hoof walls began growing underneath his foot, making it painful to walk. He got his feet trimmed and feels much better! From working with him on the ground, he seems to be well-trained. We will get our horse trainer up on him soon to see how much he knows!