| | |
| --- | --- |
| Status: | Adopted! |
| Age: | Unknown |
| Breed: | Dark Brahma |
| Gender: | Male |
| Color: | Black/Grey/White |
| | |
| Adoption Fee: | $10 each |
| Sponsor Fee: | $20/month |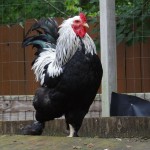 Dark Brahma Roosters
March 15, 2016: These beautiful fellows were driven by our tirelessly devoted volunteer, Cindy, to a sanctuary in the Catskills of New York.  We are happy they will live in a natural environment full of bugs and grass to peck away the days.
December 20, 2015:  These gentlemen are so beautiful, so regal. One of them, Asim, has made fast friends with our pair of turkeys, Lizzie and Spero.  These guys can be adopted together as they are familiar with one another.
July 13, 2015:  Hey Happy Trails friends, this is a unique opportunity to adopt more than one lovable rooster!  These guys are from a rescue in Portage County and were all raised together.  They get along in pairs and would love to find a home.  They are able to be held and cuddles and are used to contact.  They are very passive, very friendly and affectionate, would make great yard buddies to keep the bug and ticks population down in your yard.
---