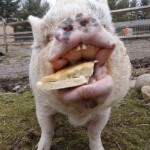 Do you have an awesome vegan entree, snack, dessert or smoothie (or anything else, even dog treats!) recipe worthy of sharing? What about a non-vegan one? If you do, let me know!   Of course, this book is going to have strictly animal friendly (vegan) recipes, but our editor is a pro at substituting animal products if you need any assistance what so ever.
This is completely optional, but with a donation of a recipe, Happy Trails is asking if you would be able to donate $2.00 to cover the cost of printing. Also, we would love for donors to send in quotes with their recipes, about your love for animals, passion for plant based living, or how Happy Trails has changed your life – And we will put these quotes on your recipe page!
Submit all recipes to Happy Trails c/o Melissa DelSignore 5623 New Milford Rd, Ravenna, OH 44266 or via email to melissad.happytrails@gmail.com If emailing, please make donations via our Donate page.