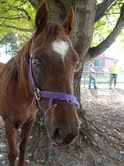 Donna Miller, reporter for the Cleveland Plain Dealer, shared information about Happy Trails recent horse rescue in her column. Check it out here.
---
On October 12, 2012, HTFAS rescued seven horses from the Mt. Hope (Mid-Ohio Draft Horse) Auction in Holmes County. Here are their stories, as well as an opportunity for you to show your support for the work of Happy Trails with a horse sponsorship.
Meet Sadie, a gentle Morgan mare with a badly damaged eye; meet Fleury, a sweet, old white pony whose baby was torn away from her at the auction; meet Woody, a handsome Belgian gelding with a terribly injured hoof; and meet all the horses who are now safe at Happy Trails. Sponsors are needed to help with veterinary costs and medical and rehabilitation expenses. Read their stories…
Read a shorter summary of the horses that in need of sponsors and available for adoption.
Thank you for sharing this story with your friends, family and co-workers. Our rescue work is only possible with your support!
Click Here To See The Horses and To Sponser Them
---
October 26, 2012: Read how the horses rescued from the Mt. Hope auction are doing now.