| | |
| --- | --- |
| Status: | At Sanctuary |
| Age: | 2013 |
| Breed: | Farm Pig |
| Gender: | Female |
| Color: | Red/White |
| | |
| Adoption Fee: | $75 |
| Sponsor Fee: | $40/month |

Ready to Adopt?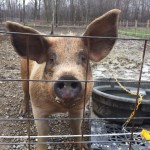 About Peppermint Patty
July 5, 2014:  As webmaster, I think I am allowed to say that Patty is just one of my favorites.  She is so inquisitive and happy.  Want to see her?  Just go to the fence and call her name.  She will romp over to you like an energetic puppy.  it would be great to find this lovely little girl a forever home.
October 30, 2013: The sweet, very vocal baby farm piggy who arrived at Happy Trails recently (also from the Capital Area Humane Society of Columbus), is recovering from her spay surgery and is getting antsy to get out and about. She, too, was found as a stray piggy.  Just as people often "dump" dogs and cats and puppies and kittens, sadly this often happens with farm animals as well.  And sometimes when farm animals escape from an enclosure, no-one misses them or bothers to look for them, and the animal is left to fend for itself wherever it ends up.  Stray animals are not only in danger themselves, but also pose a threat to motorists who may try to avoid them on the road.
With her spay surgery behind her now, Peppermint Patty is back from the OSU hospital and ready to find a permanent adoptive home of her own.
---