Potbelly & Farm Pigs
Ever looked into the eyes of a farm pig?  They hold the soul of a deserving being.  And potbelly pigs!  What a fun addition to your family.  Whether it is to fill a stall in your hobby farm or a companion animal smarter than the average dog, we have what you seek.  Unable to adopt? Sponsorship opportunities are available for the animals at the sanctuary to offset their care while they wait for a forever home.
Adopt
Sponsor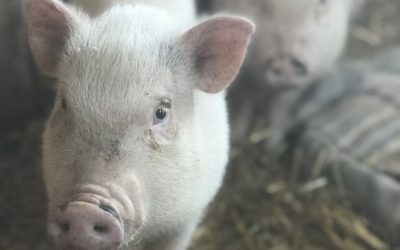 Status:  At Sanctuary Year:  2018 Breed:  Potbelly Gender:  Female Color:   Pink Height: Adopt:  $100 After twelve long days, this pair of precious piggies have found their way to Happy Trails. Ruby (the large piglet) and Olive were running...