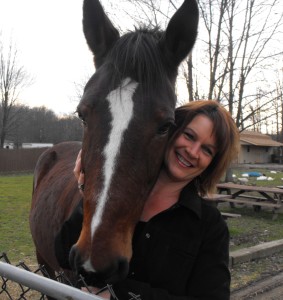 Annette Bragg founded Happy Trails Farm Animal Sanctuary seventeen years ago when she asked to take ownership of Janice, an injured pot belly pig, in lieu of payment for pet-sitting. (Read the complete story) Recognizing a serious need to provide rescue, rehab and recovery services for abused, neglected and abandoned farm animals in Ohio and to provide support for law enforcement in the prosecution of farm animal abuse, Annette created Happy Trails.
With seventeen years of experience and education in animal welfare along with her certification as a humane officer, Annette has appeared as an expert witness in courts across Ohio, has given proponent testimony before Congress to support stronger laws, has been a speaker and educator, and is recognized as an expert in farm animal cruelty and abuse by national animal welfare organizations.
In July 2016, Annette stepped down as Executive Director of Happy Trails to work in a broader capacity in animal welfare to reach even more people and to continue to advocate for animals through her writings, public speaking, and consulting.