Beautiful Collector's Edition Items Designed By Zeber-Martell Clay Studio Created Exclusively To Benefit Happy Trails

Glazed ceramic dishes, which can be used either as functional serving trays or as decorative wall ornamentation, are the first in a series of new products to benefit the rescued animals at Happy Trails! Thanks to talented artisans, Claudia Zeber-Martell and Mike Martell, the Equine Edition Collector's Series, "Free To Roam", has been created exclusively for raising funds for the sanctuary.
Layered in subtle earth tones, the beautifully designed plates are sure to
compliment any home décor or attract the admiration of your guests when used as serving trays.
Just in time for holiday gift giving, this Collector's Series not only provides a unique gift idea for a friend or gives you the opportunity to treat yourself to something special, it also provides funding for the animal rescue work of Happy Trails.
Check out the pages below — there is some great information on the artists, details about the pieces, and information on ordering (you can go to our store at any time to place your order!)
If you are thinking about purchasing these new products for the holidays, be sure to leave plenty of time for shipping.
Thanks for your support — please spread the word on these great new products!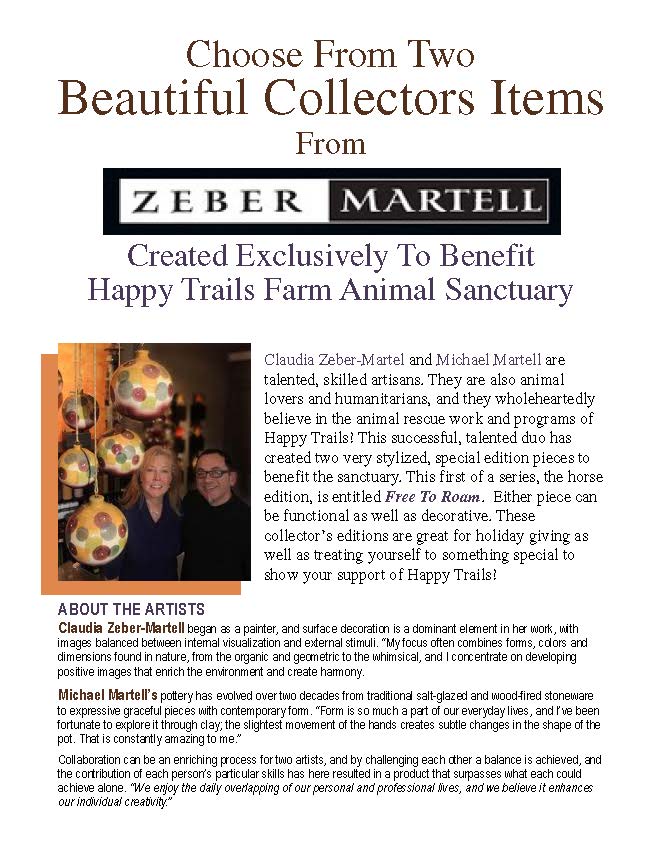 Updating...