Goats, Sheep & More . . .
Looking for a particular farm animal that has your fancy?  Happy Trails has been known to take on the rescue of some interesting species of animal that loosely fit the 'farm animal' category; emu, buffalo, rabbits, alpacas and more. Goats and sheep often find themselves rescued and safe at the sanctuary.  Goats and sheep are great companion animals, take minimal maintenance care and can be a great addition to your farm family.  Unable to adopt?  Sponsorship opportunities are available for the animals at the sanctuary to offset their care while they wait for a forever home.
Adopt
Sponsor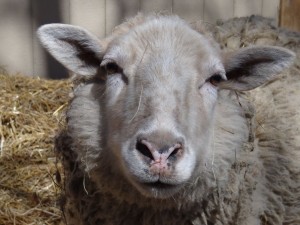 Status: In Foster Care Age: Unknown Breed: Sheep Gender: Male Color: White Adoption Fee: $75 Sponsor Fee: $40/month Ready to Adopt? About Kacey Kacey shares an 'apartment' with his fave friends, who are named after a popular TV show (i.e. Charlotte and Miranda).  He...