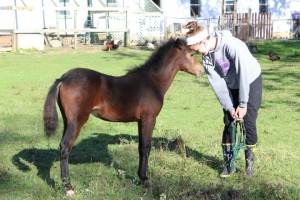 Annette,
So on the eve of your generous party, I find myself reflective (and wishing I could attend tomorrow). I have just arrived back in our house from the barn night check. I left Rita (our youngest Flanagan) wrapped in a blanket and snuggled next to the stall rail where Tabitha will spend her first night alone.
I have so much I want to share in regard to adopting rescued farm dwellers and our trek after discovering Happy Trails…
First, just to explain, I wouldn't be weaning sweet Tabitha right now if Mama Fleury was holding her weight. But with research and good advice and direction from our vet., I have had to agree this would be in the best interest of "Her Fleuriness" and would also feed positively into Tabitha's ground training. And as it has continually happened, the best scenario has occurred! Fleury is staying at our neighbor's barn tonight with two goats and another PBP – which means she will hear the same commotion and have similar barn mates and she has a huge pasture all to herself!! What a great help to this transition. Tabitha has my daughter Rita – the two have become, well, one. And now they are sleeping together….
If anyone would have told me a year ago any of this would be happening I would have told them OFF!
If only I could convince anyone that anything is possible with wayward wonderful animals and turn them ON!
How long is it now? A good few years ago, our son Patrick, asked for a pig! A pig. Crazy. We had pygmy goats that his older brothers had cared for after we accepted them from a "hardship case". We had chickens that a local school system had hatched as science experiment. And we had Amish bunnies that Patrick and his sister Hannah had bought from a little lad alongside a scenic Ohio off road. PIG? No way.
Patrick continued to ask. Finally, I told him that if he could and would plant and grow enough corn feed for a pig, then he indeed, would get a pig.
Patrick hand dug a garden patch about 50' by 100' and grew corn.
I went online to find a pig.
In the process, somehow, I stumbled across Happy Trails. Made the call. Collected our first "pig" actually "pigs" and we have never looked back!
4 pigs, 1 goat, 2 roosters, 6 hens, 1 guinea, 1 pony, and a pregnant welsh mare later…I feel compelled to persuade others to more than consider… to listen and realize that every one of us average people can do a little more. Small amendments to our days can and do add up to large adjustments toward a more positive bigger picture.
In a million years I would never have thought I would be checking on my daughter sleeping in my barn with a 5 month old foal! Never. But when one is willing – willing to open their eyes a little bit wider – let their heart feel a little bit deeper – allow their minds to skip across the immediate balks & blocks and stretch into important (somewhat sightless) callings & carings … well, amazing things happen and a whole new history for a family just might begin!
FarmFlanagan is a true testament that anyone AND EVERYONE should at least consider adopting/supporting the creatures of this earth. We have a limited budget that we work from. We rely on the knowledge shared from those that know — no formal or previous training. We are consistently blessed beyond words and entertained beyond our imaginations. And all the stories that come to us with the beloved creatures that arrive here, their experience and energy, are intricately intertwined into who we all are here … and amazingly enough, that then goes out again back into the world we go into…daily…in one wonderful way or another.
Call me crazy – but I swear to you, it's true!
Hope you have a great time enjoying each other's company and that purposeful passion shared….
Will miss being a part of it tomorrow, but I must somehow make a hair-do happen for this gal who will have slept the night prior to her first big high school dance in a barn!
cheers!
terri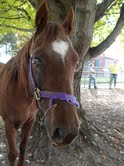 Donna Miller, reporter for the Cleveland Plain Dealer, shared information about Happy Trails recent horse rescue in her column. Check it out here.
---
On October 12, 2012, HTFAS rescued seven horses from the Mt. Hope (Mid-Ohio Draft Horse) Auction in Holmes County. Here are their stories, as well as an opportunity for you to show your support for the work of Happy Trails with a horse sponsorship.
Meet Sadie, a gentle Morgan mare with a badly damaged eye; meet Fleury, a sweet, old white pony whose baby was torn away from her at the auction; meet Woody, a handsome Belgian gelding with a terribly injured hoof; and meet all the horses who are now safe at Happy Trails. Sponsors are needed to help with veterinary costs and medical and rehabilitation expenses. Read their stories…
Read a shorter summary of the horses that in need of sponsors and available for adoption.
Thank you for sharing this story with your friends, family and co-workers. Our rescue work is only possible with your support!
Click Here To See The Horses and To Sponser Them
---
October 26, 2012: Read how the horses rescued from the Mt. Hope auction are doing now.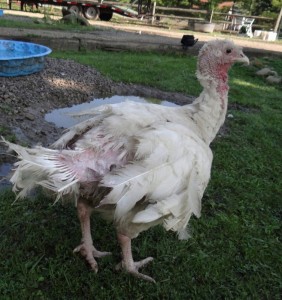 She looked sad and miserable when I first saw her. Pollyanna had been found by a good samaritan driving along the road. She glanced to the side and saw a pile of feathers lying next to the road in a ditch, and thought that it was so sad to see the dead turkey laying there. Just as she drove by, she saw movement. Was she seeing things? Did it really move? Or was it the wind? Or her imagination? Then she did what any compassionate person would do; she turned her car around to see if the animal was indeed alive and if it was, what she could do to help it. The young (under a year old) white domestic turkey was alive, though not in very good shape. Her rescuer was able to stuff the big girl into her car, and she took the injured turkey home to get her the help she obviously needed. Unable to get in contact with the county humane society, the good-hearted passerby contacted Happy Trails. Could we help?
Kevin Bragg and I went as soon as we could to the rescuer's home and walked around to the back of the property where they had made the turkey comfortable, providing her with food, water and shelter. Upon examination, it was painfully clear that she had been attacked by something, most likely a dog or coyote. Whatever her predator was, it had brutally attacked her from the back, with deep puncture wounds on her lower back, behind her legs and under her wings. Her upper right leg was terribly swollen, and she was having a hard time walking. Some of her feathers were shredded and dirty. A closer examination revealed one of the wounds near her rectum already hosted a great deal of maggots that had infested the wound. Before even moving her to the Happy Trails rescue truck, we took the time to clean her up, disinfect her wounds, and remove as many maggots as possible. A trip to Dr. Riggs and the crew at Barberton Veterinary Clinic resulted in a positive prognosis and a hope for a strong, healthy recovery for this sweet, miserable creature.
She needed a positive name that would make her world happy and idyllic, a name like "Pollyanna".
So Pollyanna spent several days in quarantine at Happy Trails as she began her journey on her road to recovery. She was on antibiotics and a special fly medication to keep the pesky summer flies away from her sensitive wounds.
This past week Pollyanna was introduced to Homer (now Homera, after it was discovered that "he" layed an egg!). The two turkeys seem to be friends, or at least are tolerating each other amazingly well. Pollyanna is sweet, loving, and enjoys attention from her human caretakers.
It's sad that no-one in that area had reported a missing turkey. And if they did know she was missing, perhaps her owners didn't care. We actually run into this quite often on farms with mass quantities of animals. One goes missing, and because of the sheer number of animals, it might not be missed. However, it's rare that a turkey who is heavy and slow and pretty docile would actually wander as far from her home as this poor bird would have been. There is a chance she was abandoned or dropped off like so many animals that we come across. Pollyanna is slowly recovering from her ordeal. She is being showered with love and peace and assurance that she is in a safe place.
To help with her recovery expenses, donations can be sent via PayPal through the Happy Trails website at www.happytrailsfarm.org, or can be sent via regular mail to Happy Trails, 5623 New Milford Rd., Ravenna, Ohio 44266. Any donating to help defray the cost of care for Pollyanna, Homer or Marge (Homer and Marge are two other rescued turkeys at Happy Trails), you will receive a full-color autographed photo of the turkey of your choice and an invitation to come out to meet them in person!
It makes you wonder, how many other animals like Pollyanna are left to die in a ditch alone? How many are abandoned along our country roads on a daily basis? While we can't always prevent bad things from happening to innocent animals, we can certainly do something to help them and to ease their pain when we can. With your support, our work is possible.
Some people might ask why they should care – after all, it's just a turkey? One train of thought comes directly from Mahatma Ghandi: "The greatness of a nation and its moral progress can be judged by the way its animals are treated." A second line of thought to the question, why do we care? It's rather simple — because it's the right thing to do.
Helping one animal at a time truly does make a difference. Ask Pollyanna. We've made a difference for her!
---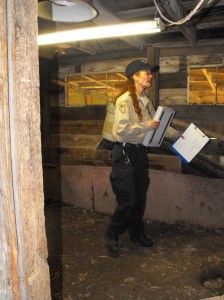 What does Happy Trails mean to me…..Knowledge, Answers, Help, and Compassion for all two and four legged creatures. I have called on Happy Trails to help with many animals rescues and they have always been right there to help with any livestock animal in need of a caring hand, loving heart, and a safe place to call home, even if it was just for a short time. These people are very knowledgable and caring, with the skills to help you accomplish any animal rescue. I am honored to have them on my call list, but mostly to call them friends in the business of ANIMAL RESCUE. Thank you so much Annette Fisher and Happy Trails for all you do. We could not do it without you on our side.
Mary Jo Johnson
(Mary Jo Johnson is a Humane Officer for Medina County SPCA and has worked with Happy Trails on a number of animal cruelty cases. The photo shows Mary Jo standing in a cockfighting pit which was discovered in a chicken barn during an investigation.)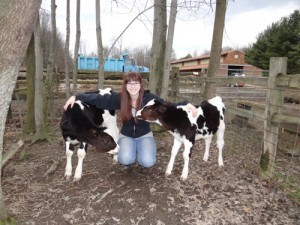 I began to volunteer with Happy Trails Farm Animal Sanctuary in the spring of 2011. Since becoming involved with this life changing organization, I have had the opportunity to work with many amazing animals and people. It is humbling to work with animals that can unconditionally trust people again after a life of abuse. I am a strong believer we can each learn something from these animals. One experience that will truly stay with me for the rest of my life was an encounter with two calves. When these precious creatures came to Happy Trails they were only days old and in a very poor condition. The male calf was given only a fifty percent chance of survival. I had the honor and pleasure of bottle feeding these calves on a weekly basis as a volunteer. The peace I experienced while feeding the calves during the calm nights at the farm compares to nothing else. I was so proud of them with each new step in their young lives. It was amazing to see them go from taking half an hour to drink a bottle to finishing it off in a matter of mere minutes. They were perfect little helpers during feeding time following everyone around to make sure each animal got their fair share of food. It was so gratifying to see these two perfect creatures return to health and grow tremendously. Towards the end of their stay at Happy Trails, the calves began to let us know they were ready to go to a permanent home by jumping clear over fences and finding trouble wherever they went. As hard as it was to see them go to their forever home, I am so grateful that they now have the opportunity to live the rest of their lives as much loved family pets. There are so many unique and gratifying experiences like this at Happy Trails.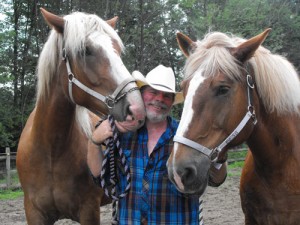 Happy Trails means to me "Luke and Bess" who have brought much joy to my life since Annette, Barb, Marie Gayetsky, and I brought them to my farm in Virginia. These two magnificent souls now have their forever home thanks to the caring, kind, and compassionate staff and volunteers at Happy Trails. It was through Happy Trails' website that my heart was first taken by Bess, and a visit to the sanctuary in February 2011 introduced me to Luke and an instant connection and bond was formed between us. I then became a man in search of a farm to buy so that I could bring these two wonderful animal friends home. I purchased my farm in May 2011 and we brought Luke and Bess home that August. I can't thank Happy Trails enough for all of their good work, kindness, and compassion that they give every day to there other animal residents in need of their own forever homes.
(John Otey is an adoptive home who took on two giant Belgian draft horses. They have become the love of his life! John literally bought a farm just to adopt these two wonderful creatures and to include them in his life. Our hats are off to John for being so dedicated and so caring for his two new family members.)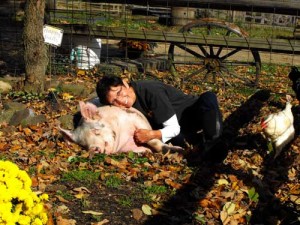 I will never forget the first time I walked through the front gates of Happy Trails Farm Animal Sanctuary. I was immediately struck with a sense of peace. Chickens were scratching in the dirt and several potbelly pigs were sleeping in the sunshine. I was greeted by a lovely tortoiseshell cat named Gypsy whoI learned was the official Happy Trails greeter. Everywhere animals were living in such peace and happiness. I knew right then that Happy Trails was going to become a part of my life.
In the six years that I have been a volunteer with the farm I have been blessed to know some of the most wonderful animals and for every ounce of love that I have been able to give to them they have returned that love tenfold. Their ability to survive, trust, forgive and love after the suffering that they endured never ceases to overwhelm and humble me. To be in their presence is and honor and a gift.
People often say that they could never do such work because it would be too sad for them to know what the animals have suffered but I feel that their lives begin to change from the moment they are rescued. Even if we lose them or have to let them go their last moments are ones surrounded by love. To be able to give that gift outweighs everything for me. Our triumphs far outnumber our tragedies and working for Happy Trails is just pure joy.
(Ilona Urban is a retired school teacher who is currently in charge of Happy Trails educational presentations for schools and special interest groups. Ilona also handles our thank yous and assists with giving special tours and helps take the rescued animals for visits at nursing homes. Ilona is instrumental in the Happy Trails outreach programs.)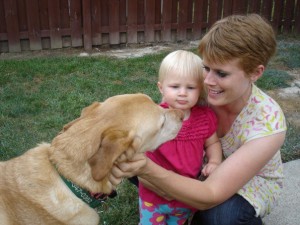 Happy Trails is one of my favorite organizations. So much so that I have raised money for them through marathon running. I am so happy there is a place that I can take my daughter and show her how loving and feeling farm animals are, that they are not just something we use. That they are no different than the cats and dogs that live in our home. She loves to go and see the piggies. It is my hope that by taking her places like Happy Trails I can raise a compassionate person who will continue to give and speak out for those who cannot.
Cheers!
(Monica Nowak is a long distance runner who donates the funds she collects to her favorite animal charities! Monica is a big fan of Happy Trails, and she is teaching her daughter kindness and compassion for all animals!)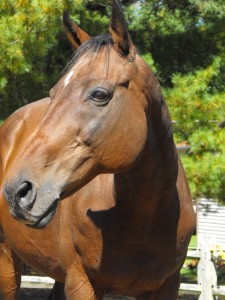 Meet Sonyador!
This beautiful Percheron mare just arrived at Happy Trails on Thursday evening, December 29, 2011. An email came across my desk earlier that day listing three Amish-owned horses that were already at a broker in Pennsylvania. They would be on their way to the Sugarcreek auction the next day on Friday where the meat-buyers would pick them up and ship them to a slaughter house in either Mexico or Canada. Could we accept these three mares into our Amish Horse Retirement Program? It just so happened we had one stall that had just become available by another horse being adopted the week before, but what could we do with the other two Amish mares on their way to slaughter? From the photos that were sent to us, all three horses appeared to be underweight. Normally horses who are weak from malnutrition would not do well riding in an over-crowded trailer for several days to a slaughterhouse in another country. Read More…