Feathered Friends : Ducks
---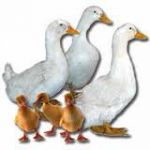 Happy Trails always has an assortment of ducks available for sponsorship.

NOTE: Due to the number of feathered friends in and out of Happy Trails, we are only listing a few in each category. To make inquiries about additional chickens we have up for sponsorship, contact us via email and we will be glad to provide further information.
---
Profile for Pekin Ducks
About Pekin Ducks
There is always an assortment of ducks available for adoption. The ages always vary and the number of ducks available changes reguarly depending on adoptions and intake.
---
Profile for Sonny
About Sonny
---
Sonny is a very social guy. He like to explore puddles to see if he can find a treasure! Sonny loves hanging out with Freckles and Steve while he waits for his forever home. Could you please sponsor Sonny during this wait time? 2/13