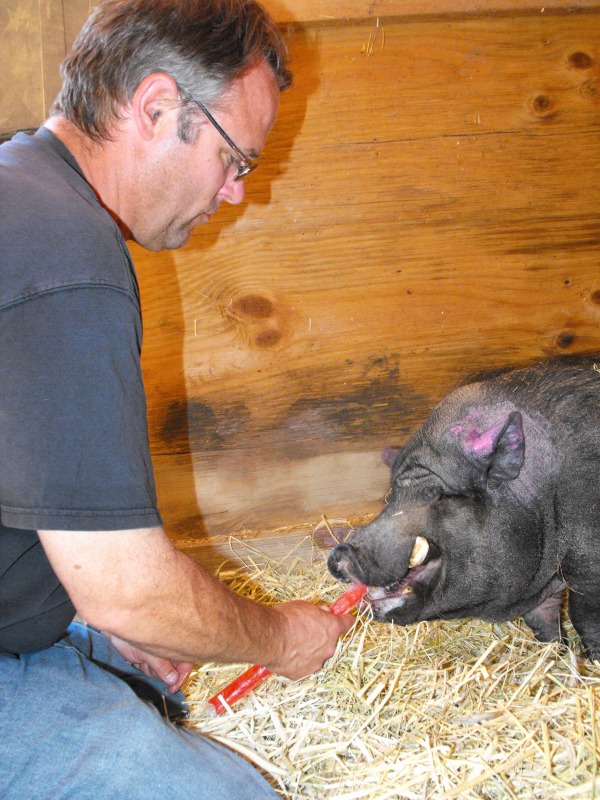 Kevin Bragg, Happy Trails president, offers a flavored icy-pop to George, the pot-belly pig, on one of the extremely hot summer days. These are the pig's favorite treats on these hot days!
Job Title: Animal Care Giver
Hourly Rate: 10.00
Hours: Thurs-Sat 5:00pm – 8:30pm
Sunday 7:00am – 10:30am
---
If you find it rewarding to work with farm animals AND have horse experience, check this out…
Happy Trails is adding to our part-time Animal Care Giver Staff. This staff position is Thursday through Saturday from 5pm to approximately 8:30pm and Sunday morning 7am to approximately 10:30am, depending on the amount of rescued animals in our care. Responsibilities include feeding and watering the rescued farm animals and horses according to sanctuary protocol, providing proper medications, treating any wounds, injuries or illnesses, turning horses in or out as needed, moving certain farm animals from one area to another as they recover or require more or less exercise, and getting to know the rescued animals on a personal level to help us provide top quality care for them.
All the rescued farm animals at Happy Trails have come from situations of abuse, abandonment and neglect. New animals may arrive daily or weekly from across Ohio and neighboring states as our services are requested. Job requirements are being able to lift 50lb feed bags if necessary, push a wheelbarrow, carry heavy bales of hay and straw, fill and carry water buckets or haul a heavy water hose where needed, halter and lead horses safely, pick hooves, apply fly spray and apply topical medications, put horse blankets on horses that arrive in the winter suffering from starvation. It's extremely important that you are able to follow Happy Trails animal care protocol and can follow directions safely and accurately.
Please send resume, cover letter and three professional references via email to: humanresources@happytrailsfarm.org, or via regular mail to Happy Trails, Attn: Human Resources 5623 New Milford Rd, Ravenna, OH 44266. Please do not stop by or call.
We will be choosing from qualified candidates as resumes arrive, so to be considered, please send in your resume as early as possible.
Personal Note From The Director, Annette Fisher: I have been taking care of the rescued animals since Happy Trails was founded in 2000. It is very rewarding as you watch animals arrive who are sad, sick, mistreated and depressed, blossom into friendly, healthy, happy animals. However, this job is hard work. You have to have a passion for what you do and truly believe in the cause. You have to want to make a difference and understand that animal abuse, in any form, cannot be tolerated in our communities. I had to laugh one time when a group of students were supposed to come out for a community service day and were going to help us care for the animals. It had started to rain that morning, so they called and left a message saying that since it was raining they assumed that we would not be going outside to take care of the animals. I was amazed. I wanted to say something like, No, we won't be going to take care of them until next week when it quits raining.' The farm animals that we work with are all outdoor animals, and yes, whether it's raining, snowing or 100 degrees and sunshine, we have to go outside to feed, water and take care of the animals. Some days it's muddy. Some days it's dry and dusty. Please keep this in mind as you consider this staff position. These animals don't have the luxury that domestic animals at a humane society have – air condition in the summer and heat in the winter – and we are out there with the rescued farm animals through it all. Do they appreciate it? They seem to! They rely on us for their very existence and recovery from the trauma they have suffered. If you want to be part of their healing process and daily care, then this may be a position worth looking into.
Annette