| | |
| --- | --- |
| Status: | Adoptable – Rideable |
| Year Born: | 2000 |
| Breed: | National Show Horse |
| Gender: | Mare |
| Color: | Chestnut/White |
| | |
| Adoption Fee: | $250 |
| Sponsor Fee: | $50/month |

Ready to Adopt?
About Esperanza
---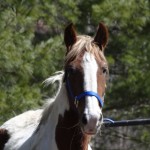 July 28, 2014: Esperanza has come a very long way since her arrival at Happy Trails. She is now in good weight and is gaining muscle! She is far less anxious than she was when she came. She has calmed down and is figuring out how to be a horse. She will still require a patient, experienced adoptive home as she can still be a handful. She is a very gorgeous girl, she will make a great addition to the right home!
April 1, 2014: Esperanza (hope) is a beautiful 14yo Paint mare.  She was rescued along with her longtime buddies, Sueno and Milagro from yet another severe neglect case in Mahoning County, Berlin Center.  To read their bio, check out our Mahoning County/Berlin Center Rescue (pdf) We have a grand dream that her and her two friends, who supported each other through years of neglect, could be adopted out together.  We do understand our dream is just that and if the right family comes along, she will be adopted out with best wishes.  Esperanza came to us very nervous, anxious and un-trusting. She is in need of a weight gain of 300 pounds!  It has been a sweet pleasure for our animal caregivers to work with her gently each day as she blossoms into a bright-eyed, less anxious friend at the sanctuary.  Although it will take time, she will learn to trust and will be able to be ridden but most importantly, she may actually trust again.  Please contact us if you think Esperanza might find hope in your family.