| | |
| --- | --- |
| Status: |  Pasture Pal – In Recovery |
| Year Born: |  1990 |
| Breed: |  Appaloosa |
| Gender: |  Stallion |
| Color: |  Grey |
| | |
| Adoption Fee: | $150 |
| Sponsor Fee: | $50/month |

Ready to Adopt?
About 'Renny'

---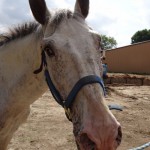 August 28, 2014: Renny has been gelded! He is doing wonderfully! He has also had the mass from his eye removed and his teeth done. He is the sweetest boy! He is so smart and a joy to be around. He may be blind, but he is extremely trusting and willing! He has quickly become a favorite around the sanctuary!
July 1, 2014:  Renny has had his feet trimmed and has been vetted.  He will recover fully from his neglect however, he will always endure his blindness.  He continues to love rolling in any fresh bedding or the sand of our new arena.  He is sweet and loving.  Trusting of every human that walks toward him despite his years of neglect.  Renaisance will be gelded and his teeth floated to correct the severe points of his canines.  Please consider adopting this lovely and proud horse for your own.  Watch Renny do his thing!…
Five horses, nine sheep. From a dilapidated barn in Ashtabula County, Happy Trails assisted the local humane officer in rescuing these animals from one of the most horrific sites in recent history. All of the horses were locked in stalls, knee deep in manure with no hope of being able to reach the lush grass just beyond their barred windows to the outside.
Renaisance was the last horse to be pulled from his stall.  Standing quietly although all of his family had been taken, I coaxed him out of his stall.  Stepping down out of his mounded manure was difficult as Renny is completely blind.  He trusted me and he led easily out into the warm sun.  Dipping his head down as he walked, he grabbed mouthfuls of grass as he walked and when he reached what he sensed to be a clearing he went down – down and rolling over and over and over, grabbing ever more grass as he rolled.  He got up, shook off and continued his walk with me straight up and onto the trailer for his ride to Happy Trails.