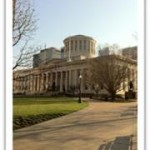 Legislative Update
B. 177 Pet Protection Orders (includes pets in restraining orders in cases of domestic violence) was signed into law before the end of the last session in 2014.
The 131st General Assembly began on January 5, 2015 with the swearing in of the legislators.
Ohio has a two-year legislative session cycle, 2015-2016. Ohio Senate page; Ohio House page
Goddard's Law (formerly HB 274) is already gaining momentum and is expected to be re-introduced early in this new session
Getting to Know Your Legislator  Get to know your state legislators to build relationships with them. By introducing yourself as a constituent early in the new session, it will be easier to contact them down the road when you are asking for their support on an animal protection bill. You can call or email their office to make a brief and polite introduction. Make sure to let them know that you live in their district. Look up your state legislators HERE.
Live Tiger Mascot – Massillon Action Alert  Each year, the Massillon Washington High School leases a live tiger usually from Stump Hill Farm to serve as their high school football team mascot. The cub is named "Obie" each year in the tradition of the team and is kept in a 2-stall garage near the stadium. After each season, the tiger is returned to Stump Hill Farm. According to a USDA inspection report, in early December the school's most recent "Obie" (a tiger named Lilly) suffered a gash on her left front leg, requiring stitches, and the loss of a digit on her paw, which could result in chronic pain and other health issues. During the inspection, Stump Hill Farm initially denied that Obie was even on the premises, resulting in a serious citation for interfering with federal officials. Read more about the incident HERE.
Help all future Obies – Reach out to the Massillon Tigers Booster Club and it's club President Bill Brown and politely urge them to permanently replace the live tiger cub mascot with kinder options. And if you live or have friends or family that live within the Massillon school district, your voice is needed more than ever. (Massillon, Ohio is about 50 miles south of Cleveland.)
Justice for Starved Dogs  Thanks to the Medina County SPCA and Holland & Muirden Attorneys At Law for successfully prosecuting a couple who were each found guilty of companion animal cruelty for starving their two dogs. The defendants will spend a brief time in jail. And although the judge in this case took animal abuse seriously and sent a strong message, it is not always the case. This is an example of why a stronger law is needed to give prosecutor's discretion to pursue felony penalties for first-time egregious acts of animal cruelty such as the previously introduced bill known as "Goddard's Law," read more HERE.
SAVE THE DATE  Ohio's Humane Lobby Day will be held on Wednesday, April 22, 2015 in Columbus. This is an annual event sponsored by The Humane Society of the United States to bring like-minded advocates together to support much needed animal protection bills. Look for registration to open soon!