Akron Aeros/Happy Trails Game Day June 23rd
Show your support by attending Akron Aeros Family FUNday. Happy Trails is the community organization chosen for the spotlight on this day. Don't miss your opportunity to meet Odessa and Kachina in "person". Buy your tickets early!
Another one of our beloved animals crossed over the Rainbow Bridge this week…our loveable yet grumpy pot belly pig, Aladdin.
Paninah, a beautiful mare, crossed the Rainbow Bridge this past weekend surrounded by many friends. This is her story.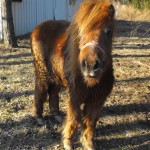 Neglected Mini Horse Now Safe at Happy Trails
It took about thirty minutes just to help this little man walk from the back of his property to the Happy Trails rescue trailer. Read Theodore's story.
Happy Trails Featured On "The List" TV Show!
Happy Trails was recently featured on the television show, "The List", regularly seen at 7pm on WEWS. Check out the segment on Happy Trails with reporter, Mike Brookbank!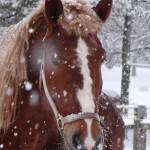 February Newsletter Now Available!
Be sure to share this latest Happy Trails newsletter with friends and family!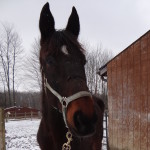 Happy Trails Welcomes a New Horse – Zagato
Zagato recently came to Happy Trails through the Amish Horse Retirement Program. Read about him and how you can help.
Glitzy the pig was rescued during a snowstorm. She had a recent trip to the vet which ended up costing $649. Happy Trails could use your help to cover these costs. Also, this sweet little girl is available for adoption.

Donna J Miller, The Plain Dealer
Plain Dealer reporter, Donna Miller, addresses the failure of Ohio's felony cockfighting bill. Learn more…