Wha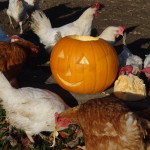 t fun "stuff" is there to purchase at the Happy Trails Gift Shop?  Our new logo apparel includes neon hoodies, embroidered jackets, fleece and winter wear in great colors, lace-trimmed tanks, t-shirts, and other great items like cozy blankets, coffee mugs, new Happy Trails postcards, mouse pads, farm animal paddleball games, kids animal tattoos, and more!
Your purchase, whether you decide to spoil yourself with a little something or you're looking for a great gift idea, supports the animal rescue work of Happy Trails in a big way.  We hope that you will proudly wear our logo apparel which will let the world know that you are a kind and compassionate person!
HOLIDAY GIFT SHOP HOURS
Saturdays 10am to 4pm
Sundays noon to 4pm
Wednesdays 5pm to 8pm
AND we'll be open on black Friday – the day after Thanksgiving – from 10am to 4pm!!!
(All supporters who purchase a minimum of $50 in the gift shop on Black Friday gets a personal visit right then and there to give a piggy a belly rub or hug a mini horse – your choice!)